Activités en cours à Rimouski
22 février 2020
Bingo Tupperware - Accompagnez-moi!
Écrivez-moi à
Looking for Tupperware products?
Vous êtes à la recherche de produits Tupperware?
Refer to the image below -Voir l'image ci-dessous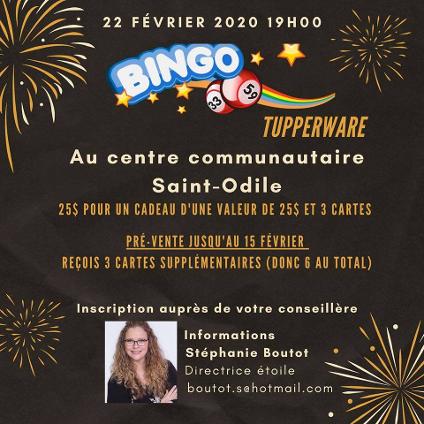 You would like Tupperware at great prices?
You would like gifts and rebates?
You would like the Grill Micro-Pro for 20 $ when it is worth $279?
If the answer is yes, being a Tupperware representative is for you!!
I am recruting from February 1 to 7 2020. Please send me an email if you would like additional information. I'm also offering an information session in Rimouski February 5, 2020. If you are outside of the region, the information session can be made by phone or by email.
For 129 $, you'll receive a starter kit worth more than $500. You can also choose the $80 kit for pruducts over a $320 value.
The Micro Grill Pro will only be available to new recrutes for $20 between February 1 to 7, 2020.
I began in order to equip myself with Tupperware a few months ago and I am now hooked!!
My appologies, the English version of the pictures will be updated as soon as available.
Vous voulez des Tupperware à bon prix?
Vous voulez des cadeaux et des rabais?
Vous voulez le Grill Micro-Pro pour 20 $ alors qu'il vaut 279 $?
Alors être consultante Tupperware est pour vous!!
Je recrute du 1 au 7 février 2020. Envoyez-moi un courriel si vous désirez des informations supplémentaires, j'offre une session d'information chez moi vendredi le 5 février 2020. Pour les gens à l'extérieur de Rimouski, la session pourra être faite au téléphone ou par courriel.
Votre trousse de départ coûte 129 $ et vaut plus de 500 $. Vous pouvez également choisir la trousse de 80 $ pour une valeur de 320 $ de produits.
Le Micro Grill Pro sera seulement disponible au coût de 20 $ aux nouvelles recrues entre le 1er février et le 7 février, 2020
J'ai débuté pour m'équiper à moindre prix et maintenant j'ai la piqure!!